Image source: Everett-Collection
For costumer Massimo Cantini Parrini, helping to remake the classic story of "Cyrano" into a full-scale musical was a formidable challenge. If creating hundreds of romantic, era-appropriate costumes for actors to dance to and sword fight in wasn't chaotic enough, it also had to do it during a global pandemic. "It was very difficult," Parrini told POPSUGAR. "I only had a month of pre-production for this film, but thank God I continued to make the costumes in the workshop I opened in Sicily during the whole shoot. We sewed until the last day and created approximately 750 new costumes made exclusively for this wonderful film."
The effort was of course worth it – and not just because the film's costumes were nominated for an Oscar. "Cyrano," starring Emmy-winning actor Peter Dinklage and directed by BAFTA-winning director Joe Wright ("Atonement," "Pride & Prejudice") is a magnificent triumph. Everything about the film is romantic and charming – the settings of snow-capped mountains and sun-kissed Italian palaces, the spirited choreography punctuating soaring original musical numbers, the love-soaked gaze of Peter Dinklage – and the costumes further construct the world of the period piece with billowing capes, lush corsets, and battle-worn uniforms. Read on to find out how Parrini helped breathe new life into this classic love story, now playing in theaters nationwide.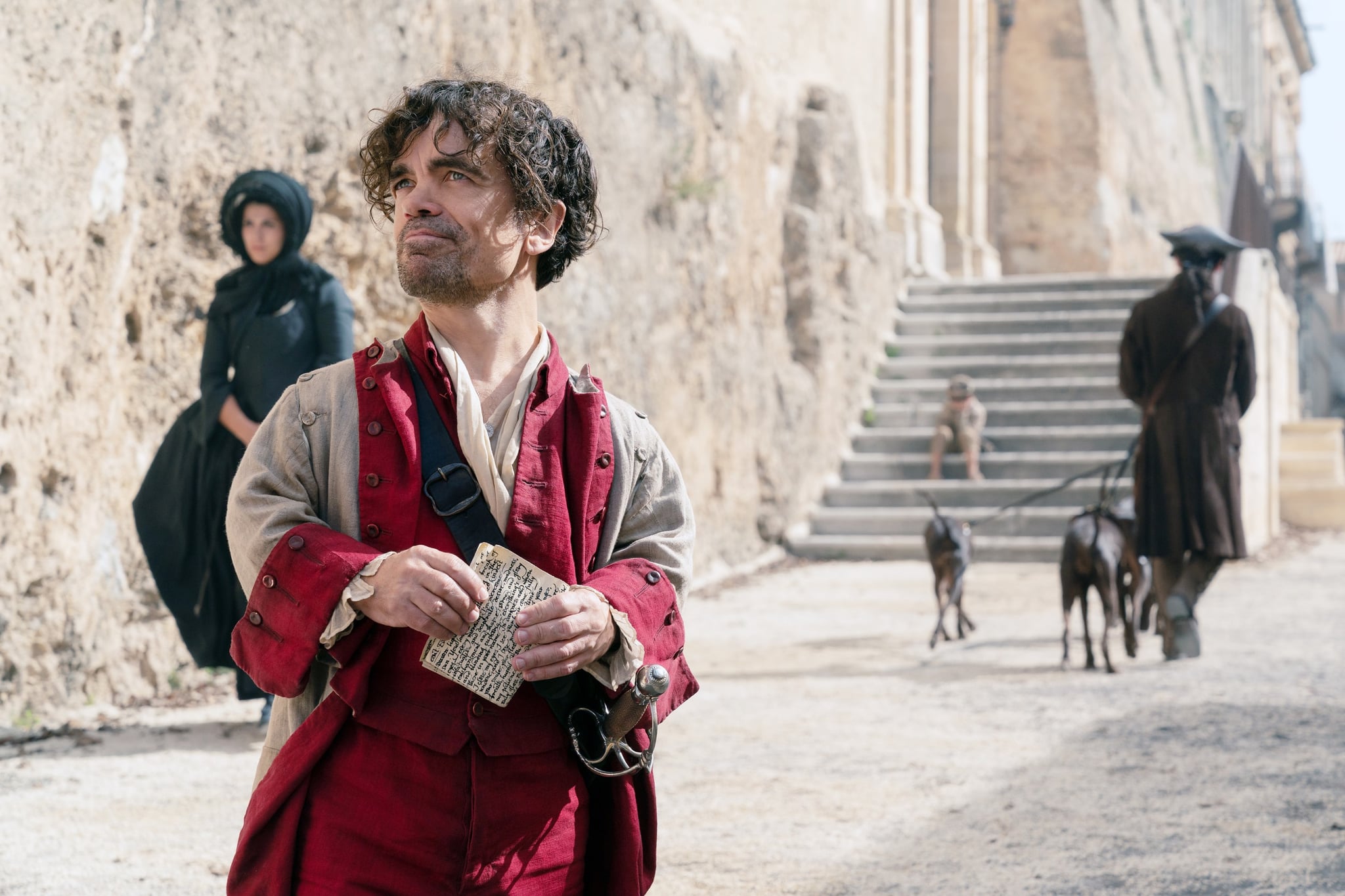 Image source: Everett-Collection
POPSUGAR: Where do you begin your creative process, especially when given the task of recreating such an iconic character as Cyrano?
Massimo Cantini Parrini: In the case of Cyrano, [director] Joe Wright and I wanted his costume to be the same for the entire film, but also to be versatile enough to change shape and appearance for every stage occasion. To do this, I created a uniform, putting buttons in place of seams, which allowed me to transform the costume by unbuttoning or buttoning, and by moving elements of the costume in continuity and in a way that can always be different.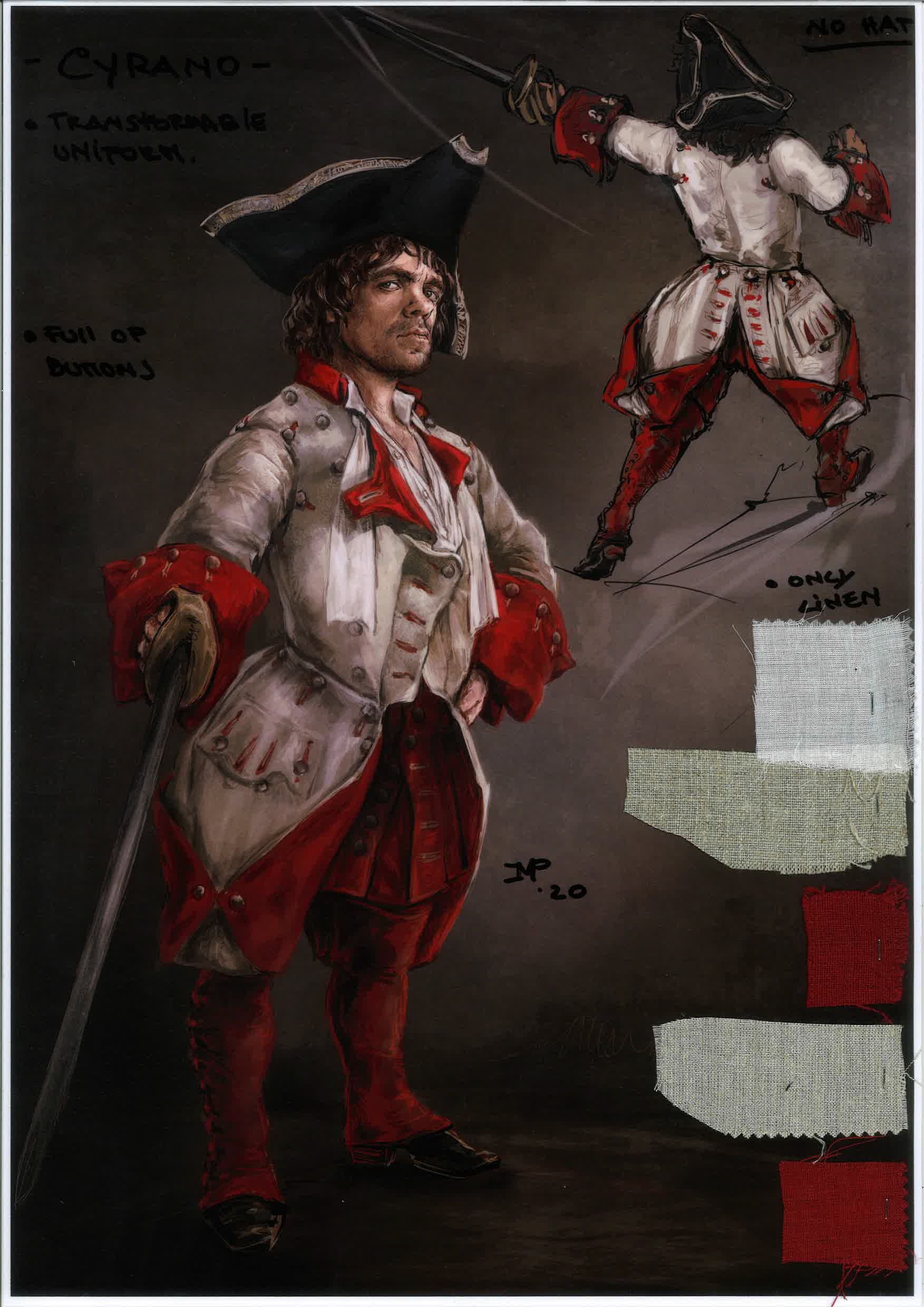 Image source: Sketch by Massimo Cantini ParriniImage source: Photoshop by Elena Pavinato
PS: This is not Cyrano's first film. There is a French film from 1900, a film from 1925, a television adaptation from 1938, another French film from 1946, a film from 1950. . . . Fast forward to a 1990 version with Gérard Depardieu, another in 2008 with Kevin Kline, and countless pieces, of course. Were these earlier tales part of your research or did you prefer to start over?
PCM: To start again absolutely! I don't want any kind of contamination. The ideas must be absolutely original and I think it's very important to respect the director's vision. Joe strongly wanted this "Cyrano" to be original in everything and for Cyrano to be an incredibly modern protagonist, while remaining very faithful to the historical piece. We have all followed with enthusiasm the evolution of this beautiful character.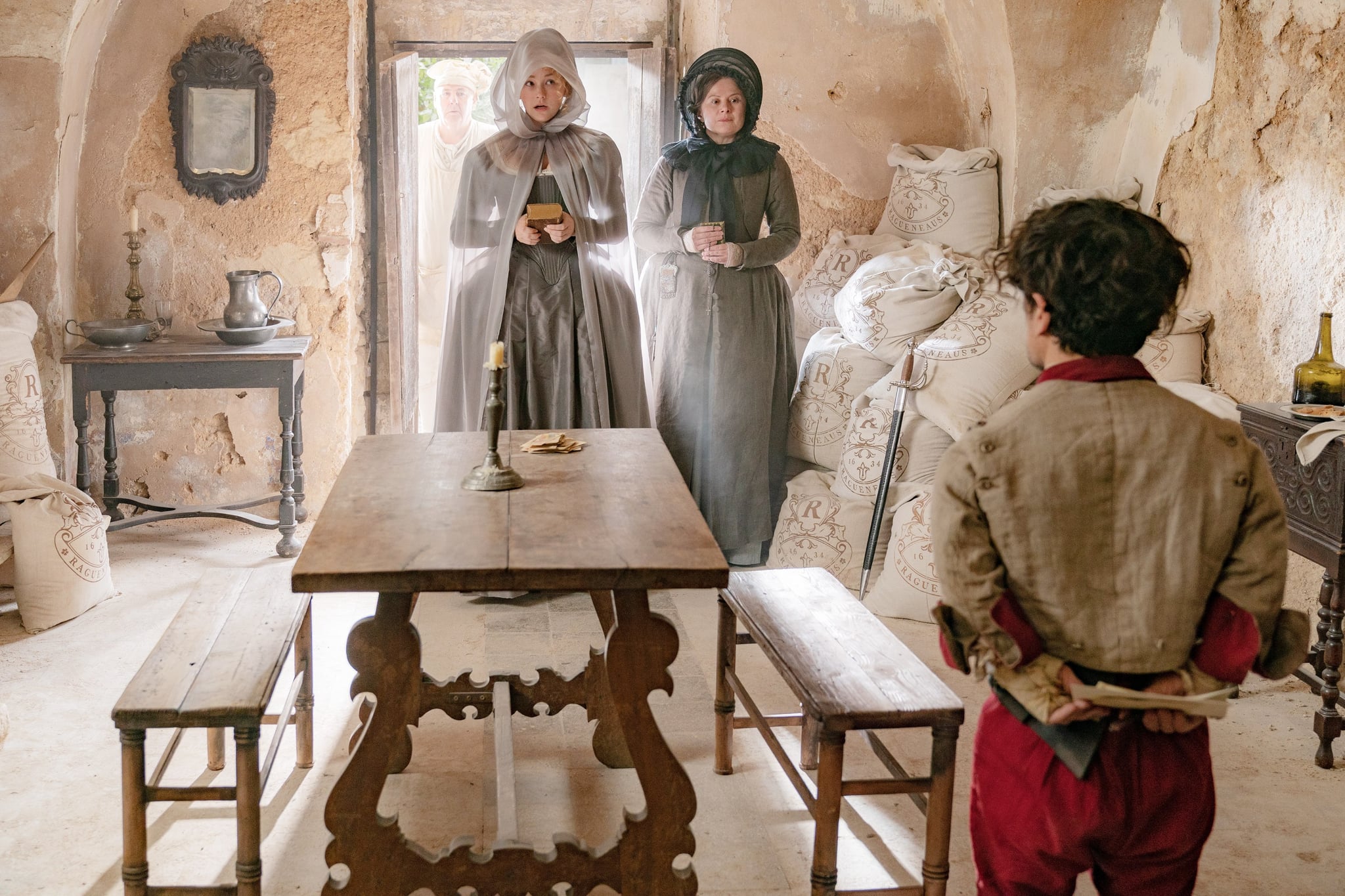 Image source: Everett-Collection
PS: Is it difficult to create costumes that not only have to look a certain way to tell a story, but also have to be functional to adapt to the movements of dancers and swordsmen?
PCM: I have to say it was a good challenge! I've worked on a musical before, but every film is different. In this work, for the costumes, the key words were "lightness" and "transparency". I wanted all the clothes to keep their natural look and feel but allow the movement of the clothes to float as much as possible and the dancers to feel beautiful and very light. The choreography is beautiful and showcased my work by allowing the clothes to move and flow.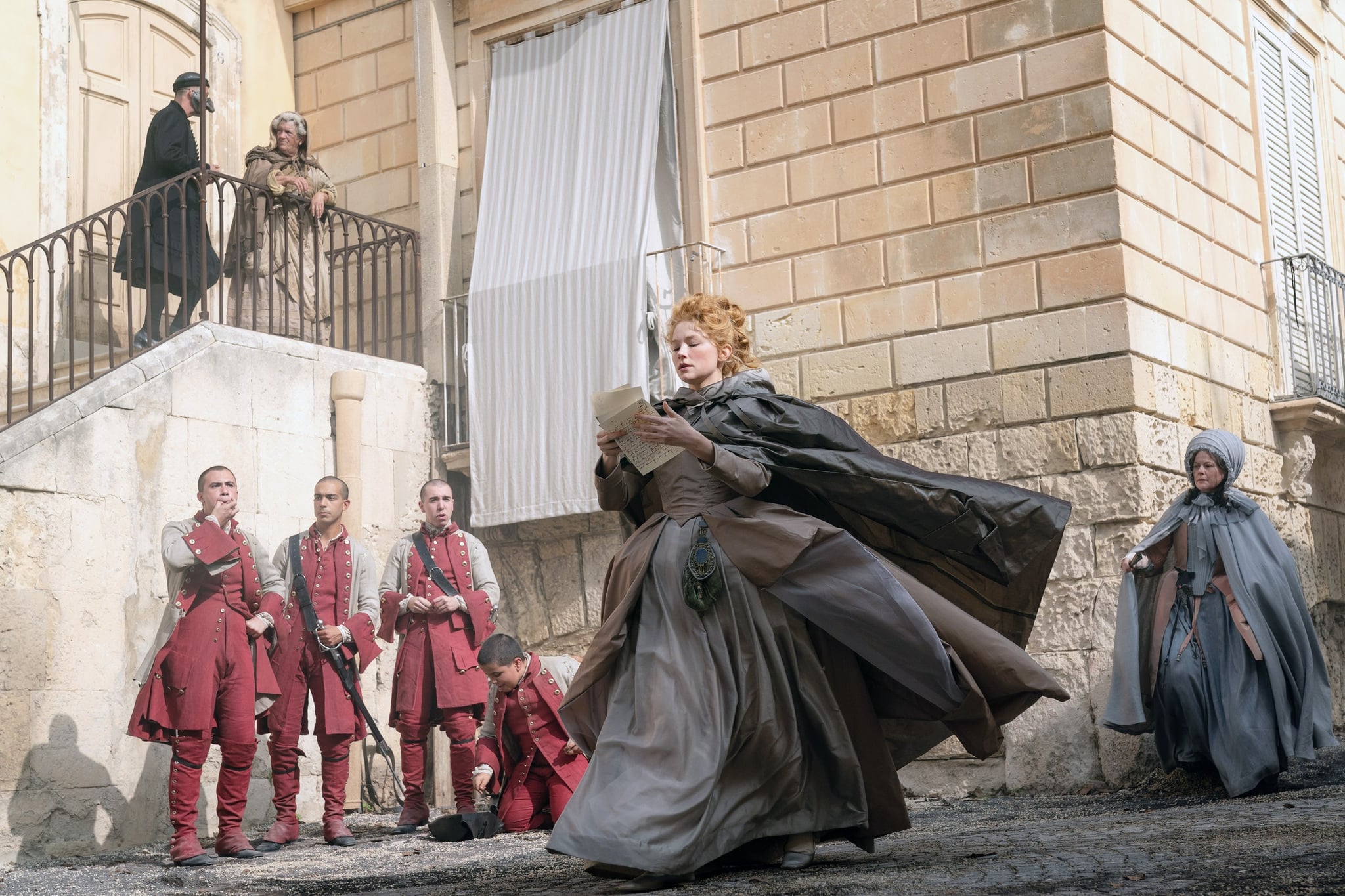 Image source: Everett-Collection
PS: Corsets are back in fashion, like in the 17th century. What's in corsets that's making them come back into fashion?
PCM: Who wouldn't want to wear a corset at least once in their life? The corset is a part of the costume that has always fascinated the world and made women's bodies incredibly feminine for centuries. For this, it was very difficult to give it up, and in truth, it never goes out of style. And that's why in "Cyrano", I wanted to put it on everyone: women and men. And I made them wear them over their shirts so that they were clearly visible. The actor who plays De Guiche, the marvelous Ben Mendelsohn, loved wearing the bust, and every day he wanted me personally for the dressing — like a true 1700s rite.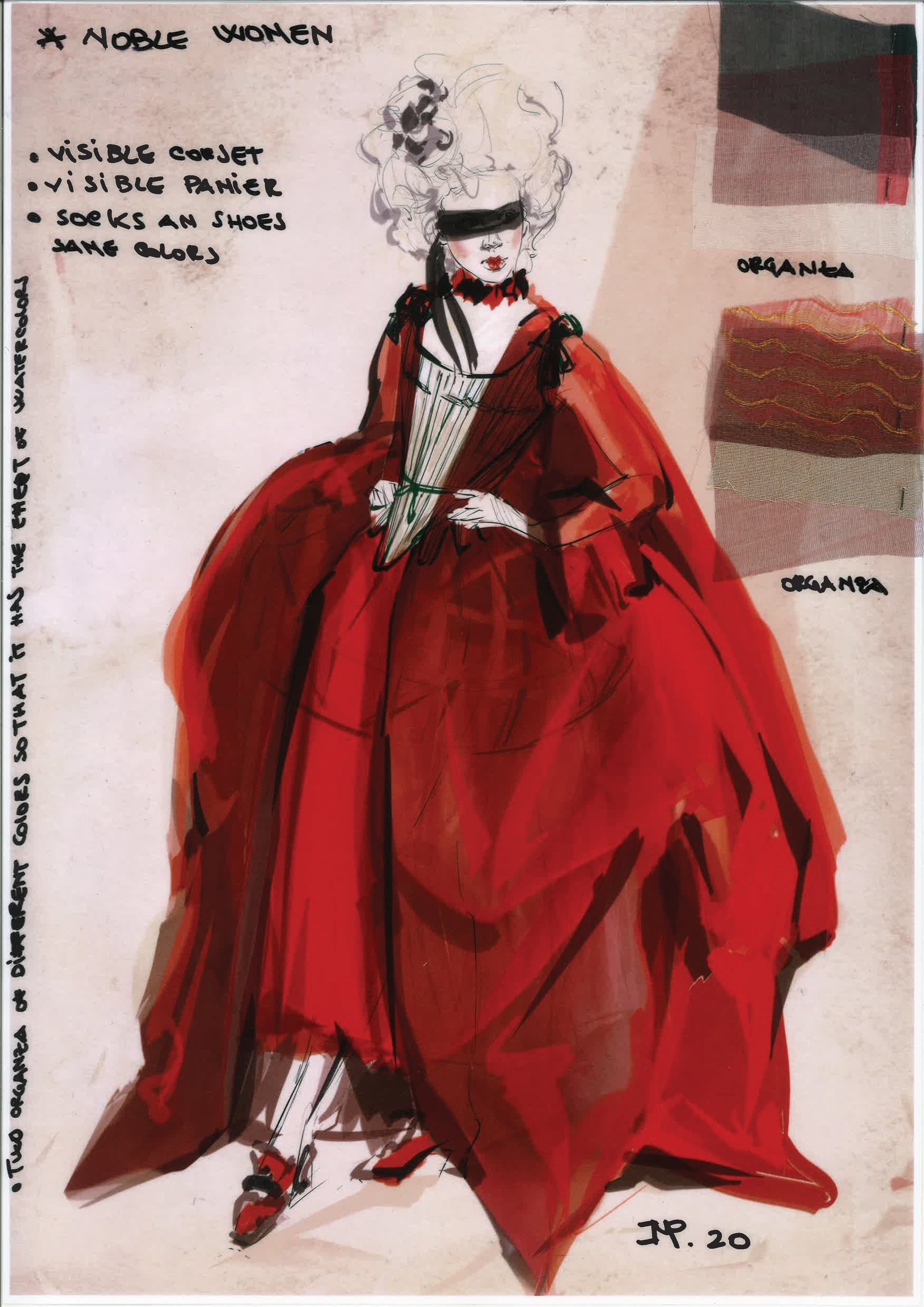 Image source: Sketch by Massimo Cantini ParriniImage source: Photoshop by Elena Pavinato
PS: The look of the make-up is particularly striking, in the early scenes — white painted faces, intricate wigs, etc. What relationship did you have with the beauty team? I'm curious what the collaboration between departments looks like, if there has been any.
PCM: With makeup and hair, there has been a wonderful understanding from the start, and it's rare to find it. I had previously worked with [makeup designer] Alessandro Bertolazzi, and subsequently I recommended him to Joe. I think it's very important that all the crafting departments work together and build together the image of the characters so that they are perfect from head to toe. I have to say that Alessandro and [hair designer] Sian Miller has done a magnificent job in "Cyrano" – a perfect balance between the past and fashion. I would like to make films with them again.
Image source: Everett-Collection
PS: Did you have a favorite costume? Personally, I loved the ballerinas in sheepskin (seen too briefly!).
PCM: I enjoyed designing De Guiche's costumes so much. The idea of ​​keeping it always pink throughout the movie was amazing; even the official uniform top is pink! Also, the costumes for the baroque dance at the theatre: the marvelous sheep, which were made of tulle, and Montfleury the singer [played by Mark Benton], gave me a lot of satisfaction. Montfleury was divine – another crazy good actor!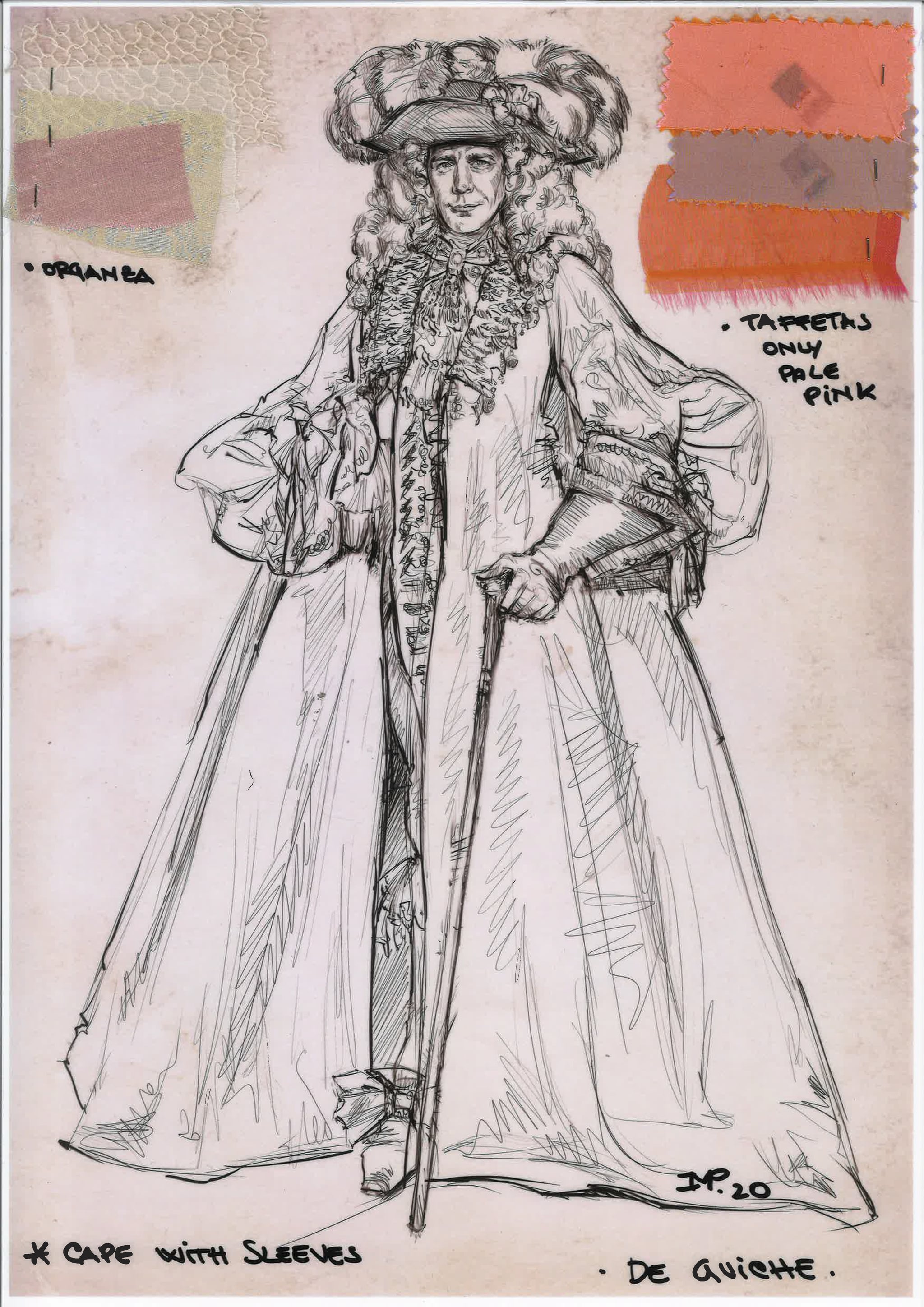 Image source: Everett-Collection
PS: Was it difficult to work during COVID? How has your work changed during the pandemic?
PCM: It was very difficult, not only with the standard COVID protocol, but also not being able to try and move the costumes on a live model before the actors and extras came to the fittings, which is what we always do when we make suits. All the costumes had to be disinfected as soon as the fitting was done or the day of shooting was over, which takes time, and we needed a lot more staff to help us with this work.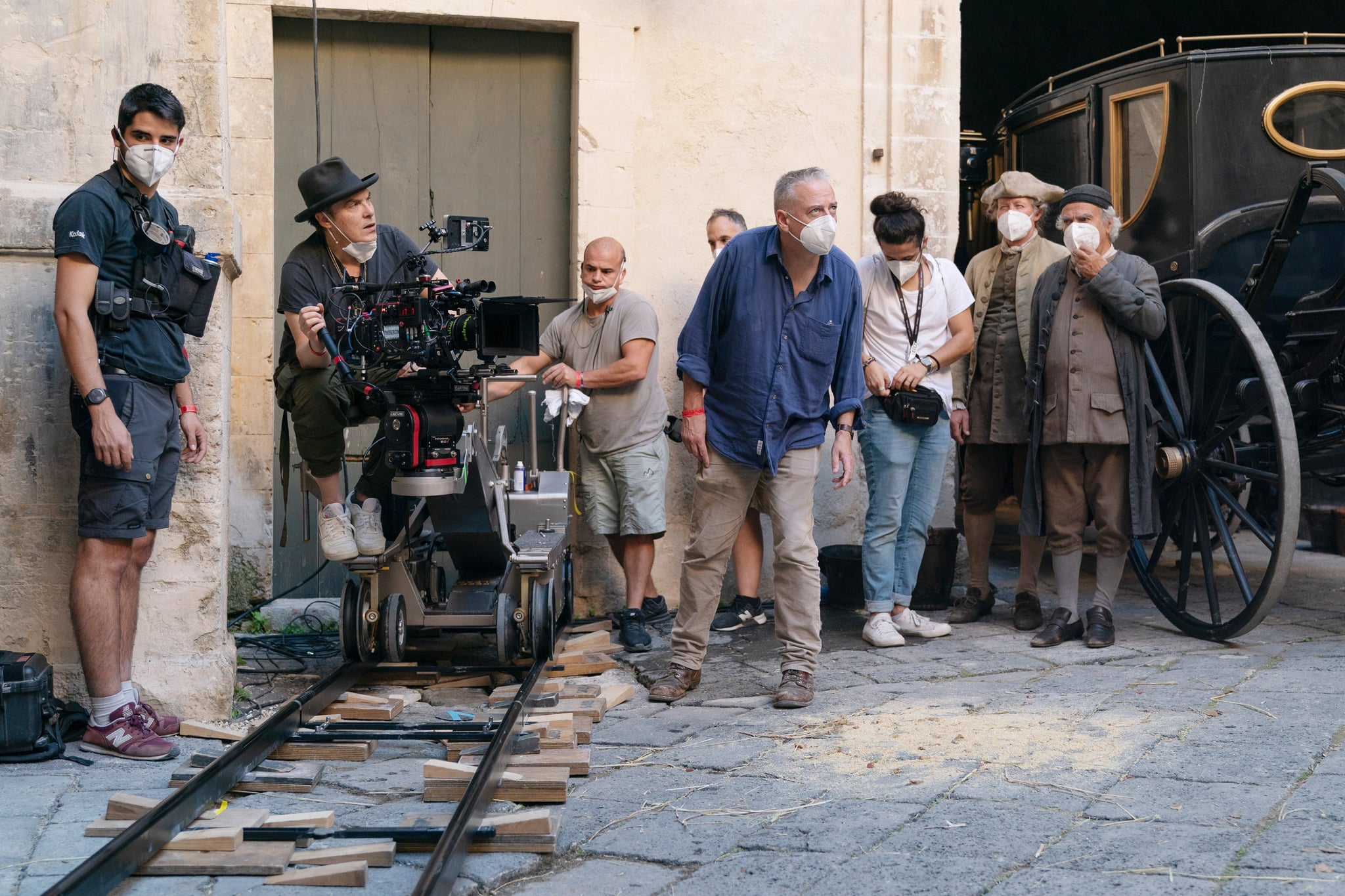 Image source: Everett-Collection