welcome to Style diaries, a series where we research the physical manifestations of our IRL closet visits. We're asking our friends and trendsetters to show us what they're *actually* wearing during the week and to preview their thoughts on the current state of fashion. This week, we follow the costume designer Derica Cole Washington as she dresses for a week on the set of Reasonable doubt. Each day, she and her team set a theme that challenges the crew to shop their own wardrobe and interpret new clothing ideas.
What role does fashion play in your life?
"I have fun with fashion; that's why we have these themed days, to create a level of camaraderie with my team and just to get people excited about coming to work because it's such long hours. With so much going on, it helps people to lift their spirits, to have something to look forward to. We literally have a group chat called 'What's the theme?' Everyone is eager to dress up.
"As far as my career goes, it's interesting because I shop around and think, 'Oh, that top is really great but it doesn't work with anybody on our show or it doesn't really make sense. I have to make sense of things. I can't just spend money lightly. I'll buy something like a Dries [Van Noten] jacket I just bought for one of the characters, but it can't be said openly that it's a Dries jacket. Nothing we do on the show is overtly noticeable. You want to get lost in the story and not be overwhelmed by what people are wearing. So I think there's always this balance between, does the clothes wear them or is that just part of the story that we're telling?
What does your style look like these days?
"There are [a difference between] how I want to dress and how I should dress. I would like to wear heels all the time, but it's not practical. If I was wearing heels, a) I'd be making all that noise walking around the set, and b) we're usually on gravel or somewhere I don't like. For practical reasons, I usually wear sneakers and then I also love mules. Even looking through my photos, I recognize that I wear a lot of high-waisted wide-leg pants. When I try on, I usually look at the hemline, so I'm on my knees or on the floor. I need practical pants to be able to do this. I also want people to still respect me as a costume designer. Even now I wear a suit jacket and pants, but it's casual. I always wear a t-shirt. I always wear Jordans. That's how I dress to do my job, but on weekends I wear heels and a nice top or dress or something.
On the beauty side, what does your hair and makeup routine look like?
"It's pretty bare. I mean we have to wear masks anyway, so it's definitely very stripped down. I'm having my eyelashes done. I do my eyelashes and lower my eyebrows. It's rare that I have the opportunity to do anything other than that.
Look 1: Monday Motorcycle Jacket
"That one was technically Moto Jacket Monday, but my jacket isn't so much a moto style, so I went with moto like leather with an all-leather look. That's another reason I love moto days. themes; I like how other people interpret it. It's also a way for me to assess how people dress and what they have in their wardrobe. As a costume designer, it's is the way for me to think about my parameters. What are the limits and how can I really rise to the challenge?"
Buy the look:
Look 2: Music Monday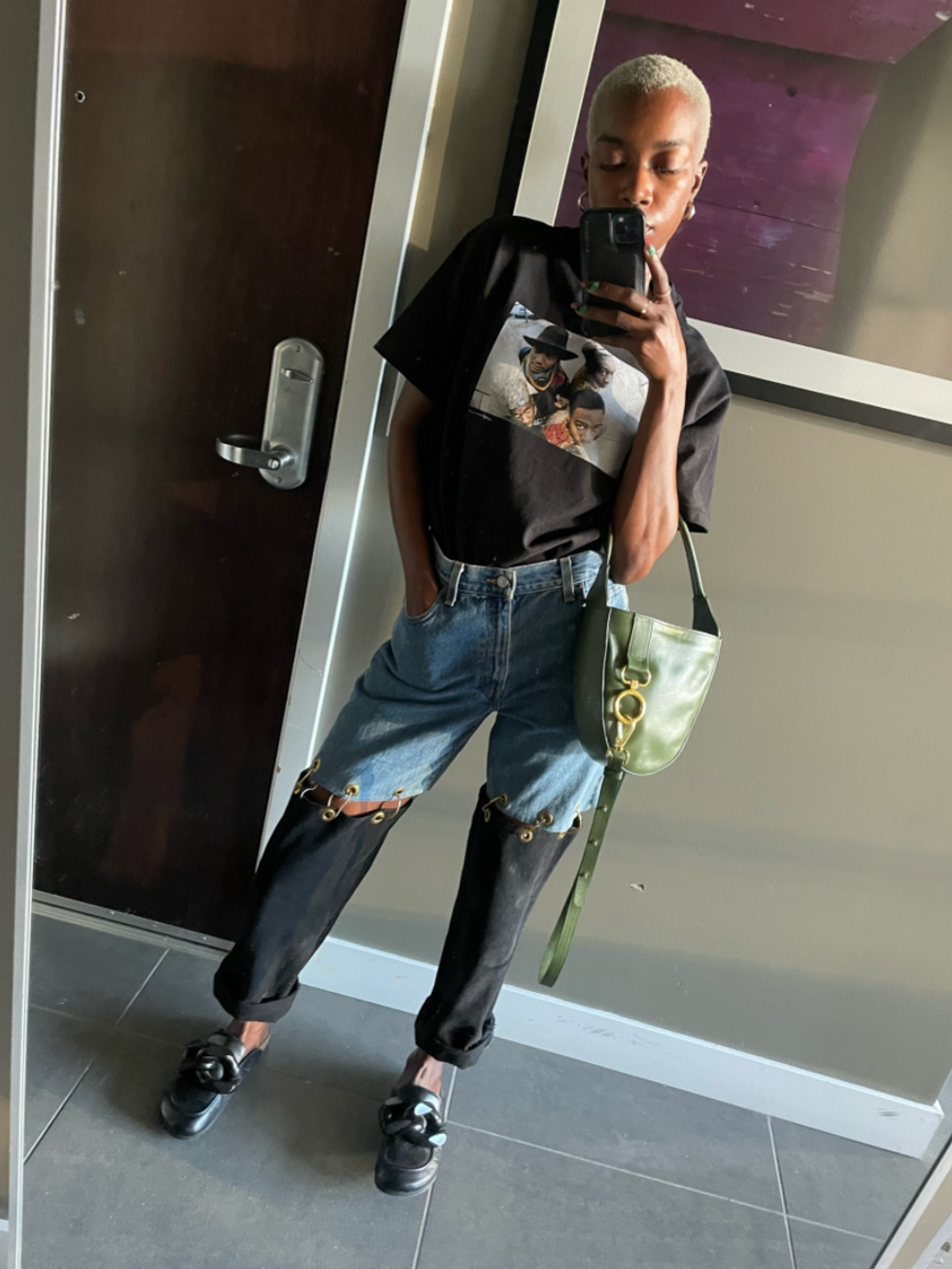 "I like some kind of pants. I've had them for a long time. I got the shirt from Dover Street in LA and the pants are House of Tame. She is based in Ohio. (I'm from Ohio.) I had them custom made. And again, I have another mule on it; my JW Anderson mules that I love. I literally live in a mule. If I'm not wearing sneakers, it's a mule. The theme was Music Monday, so I'm wearing an A Tribe Called Quest t-shirt.
Buy the look:
Look 3: Tuesday two-piece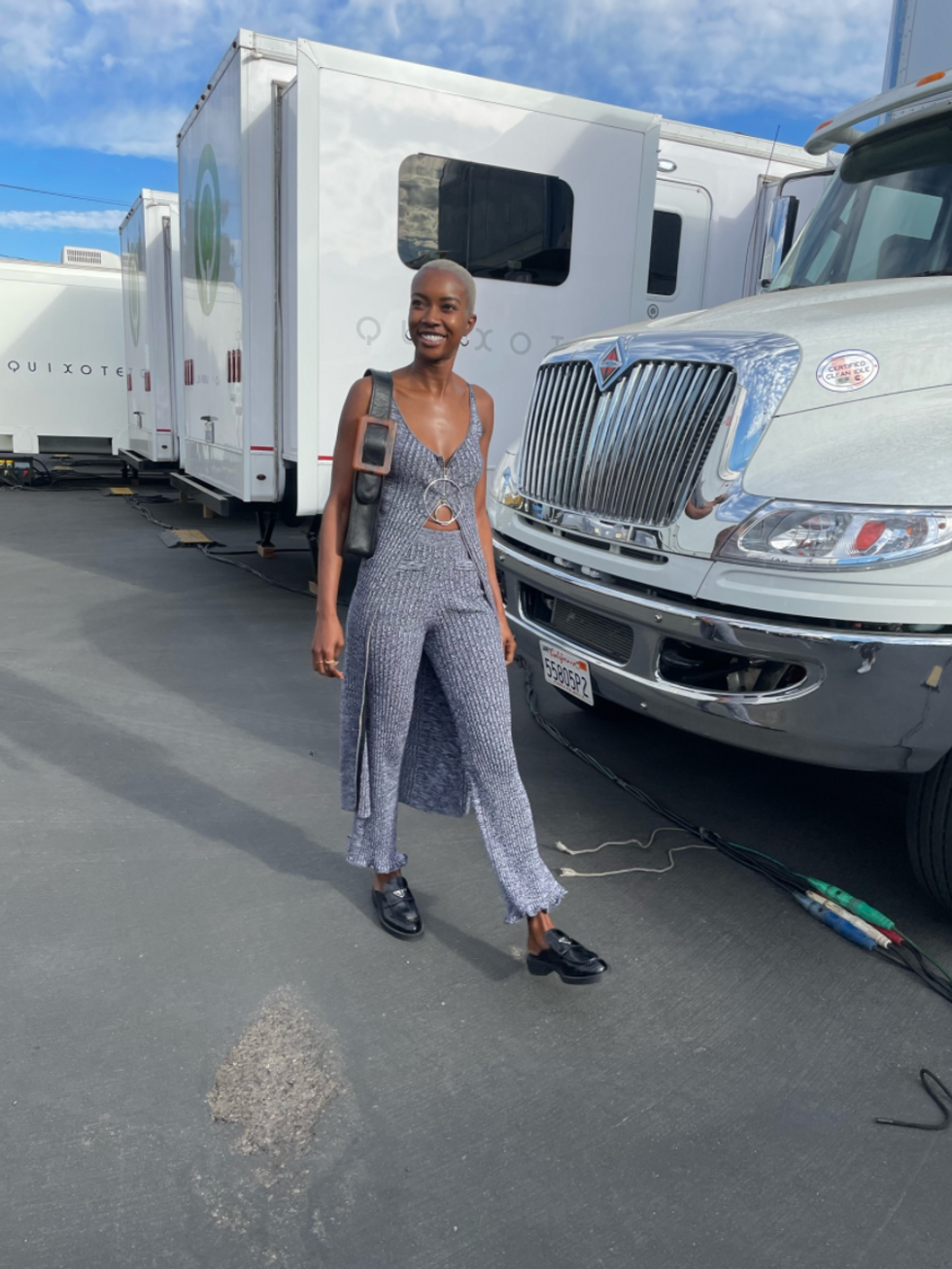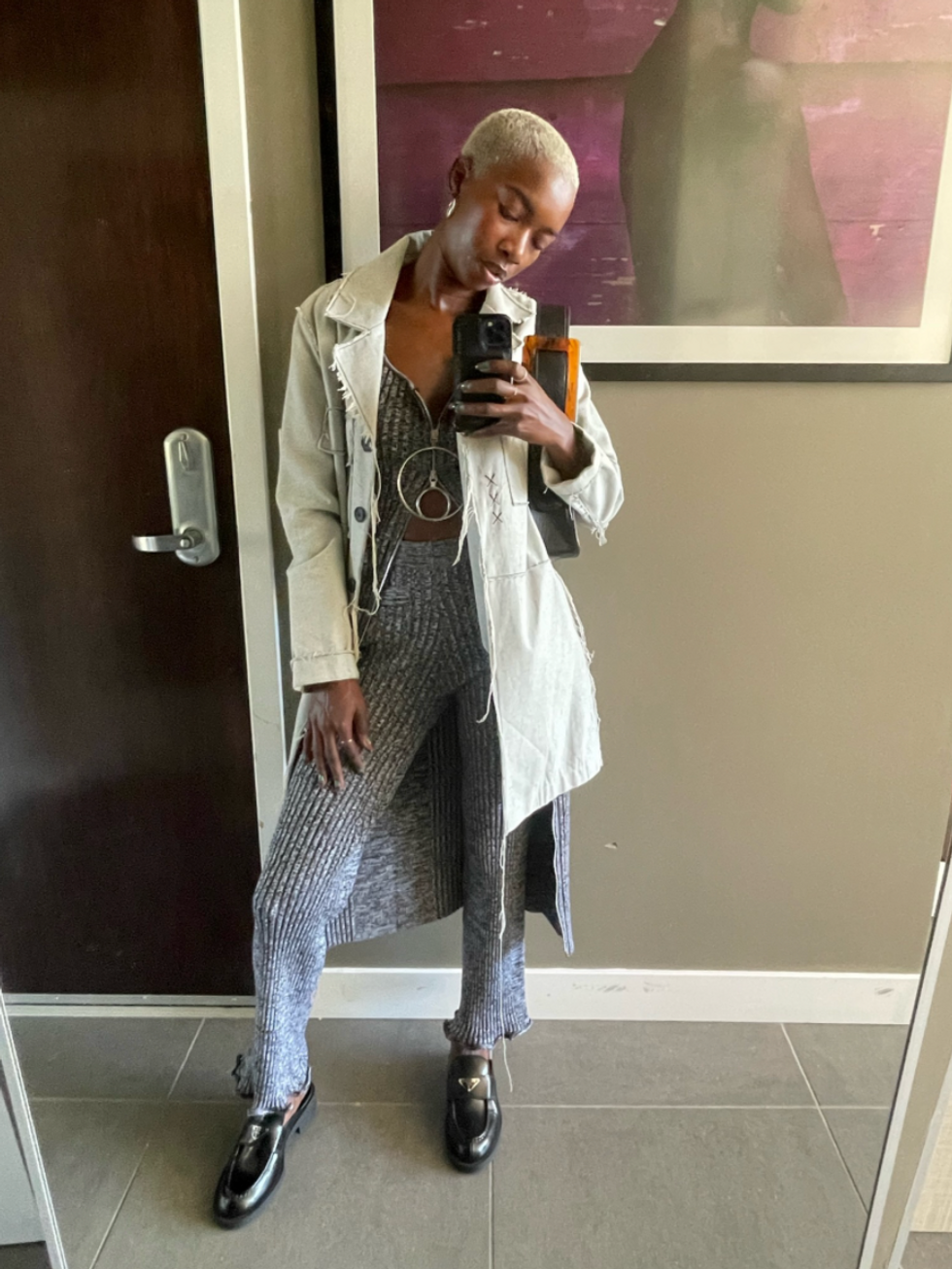 "It's this Paco Rabanne set that I found. It's actually a dress but I unzipped it. It's funny because I found them separately. I found the dress on Farfetch and I think I found the pants on Matches and I was like, "Oh, if it unzips completely, I could make a set of these." Again, the way I want to dress is to just wear the dress, but I literally have nowhere to go. The person I want to be is someone who has all these invitations to go places – dinners, drinks, events, movie screenings – but the reality is that I'm not the person, so I have to find a way to integrate it into work. "
Buy the look:
Look 4: One-Piece Wednesday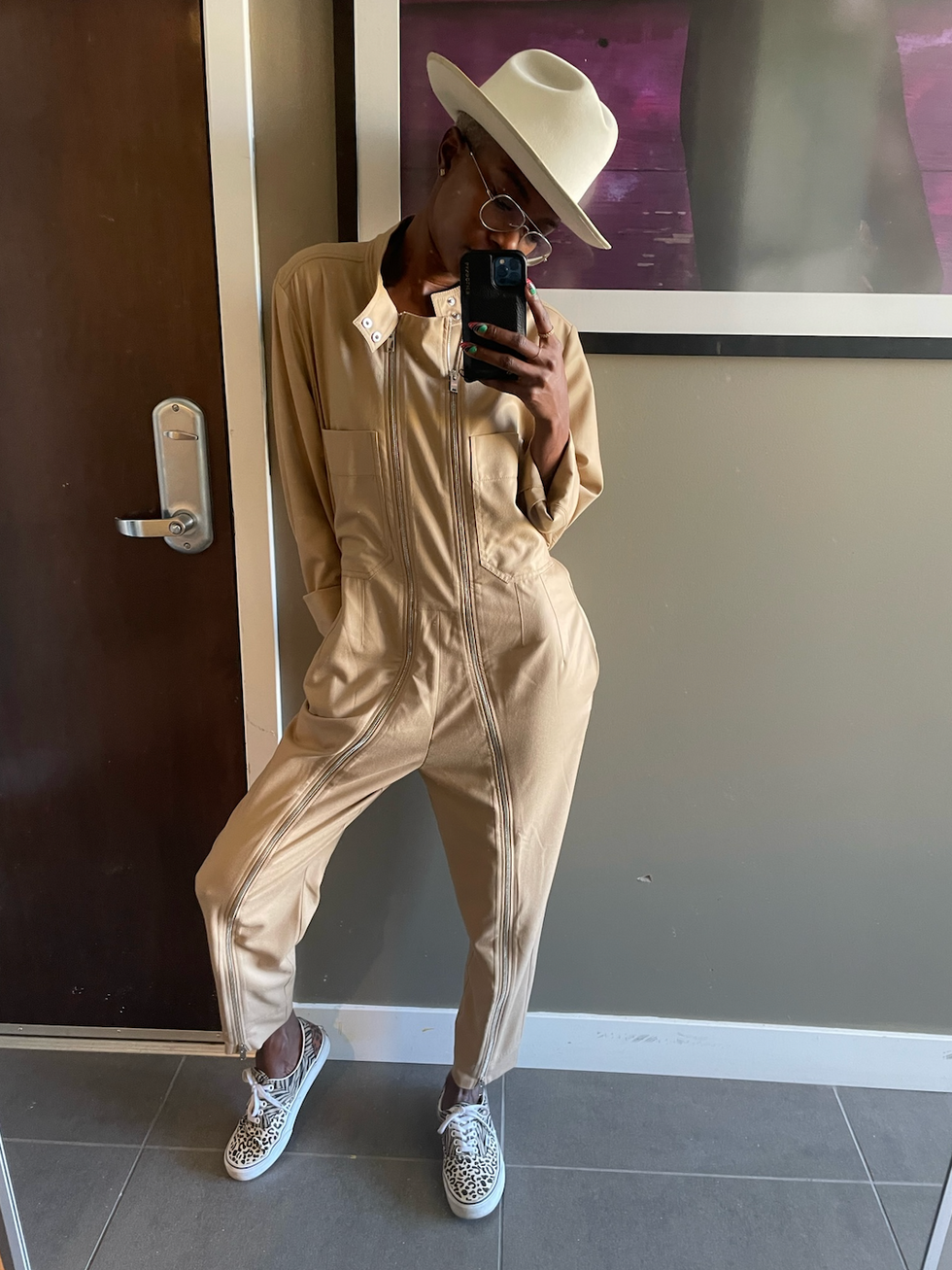 "One of my favorites, [this is] Stella McCartney. It is convenient. I can run. It was for our One-piece on Wednesday, so everyone came in jumpsuits, dungarees, whatever their one-piece was. This one is just one of my favorites because it's practical, but it has a bit of flare with the zippers. Also, when it's hot, I can decompress it even more. It's 85 degrees in LA right now, but two days ago it was 50. You never know, so it's always nice to have something you can assess and move throughout of the day.
Buy the look:
Look 5: Wild Wednesday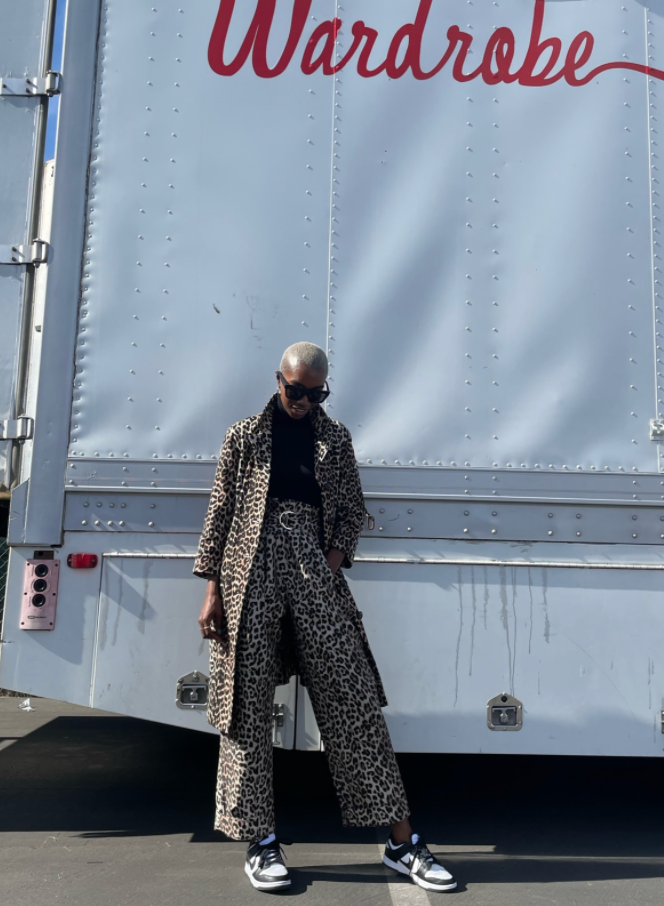 "This set is by Ganni and I love it because it's super matchy-matchy, and very Fran Dresser—The nanny vibes but an updated version. It's also classic: a jacket and high-waisted paper bag pants. I just feel, again, that there has to be some level of professionalism. Unless we have a sweat day, I don't wear sweat pants.
Buy the look:
Look 6: Faux Fur Friday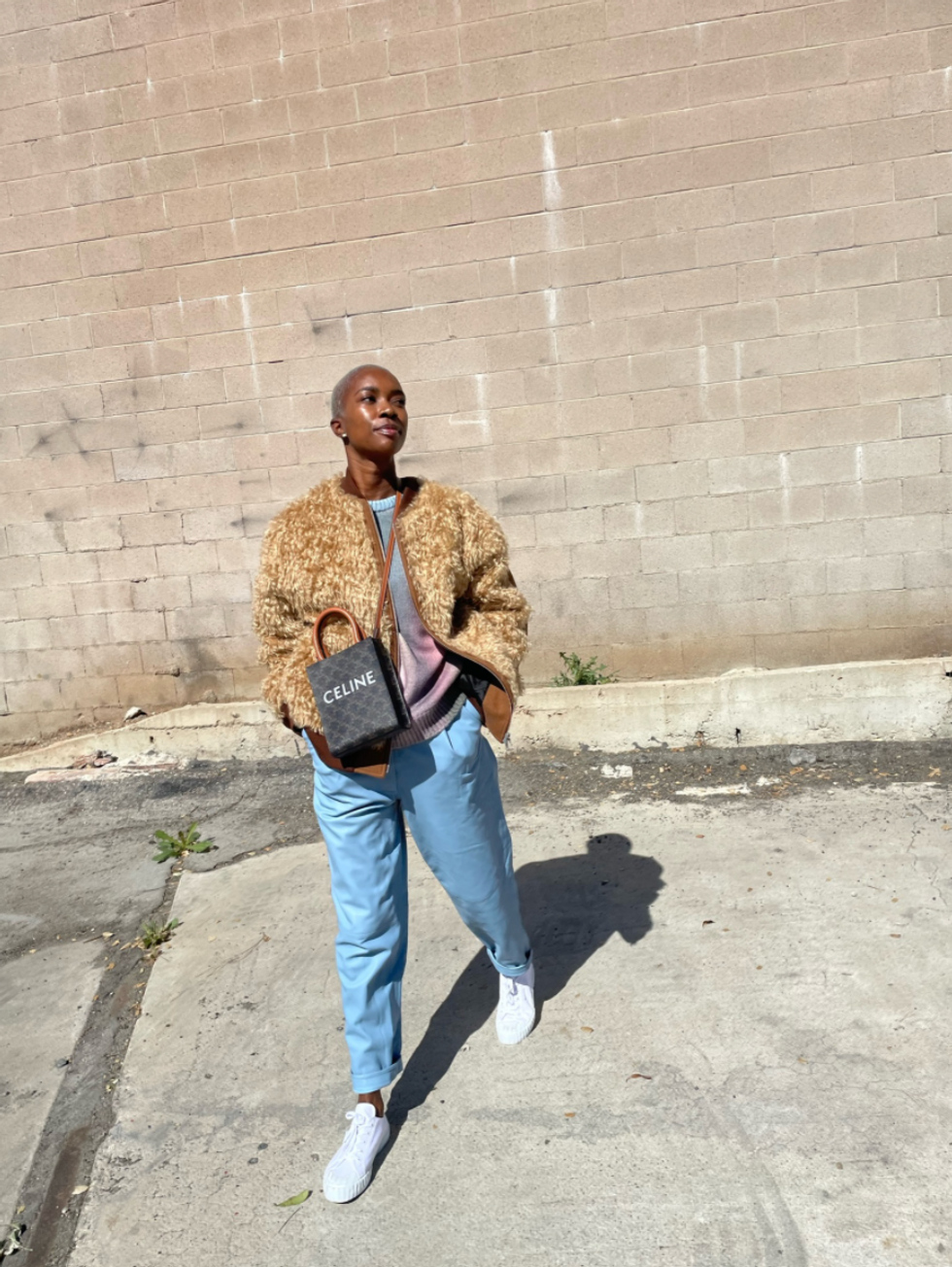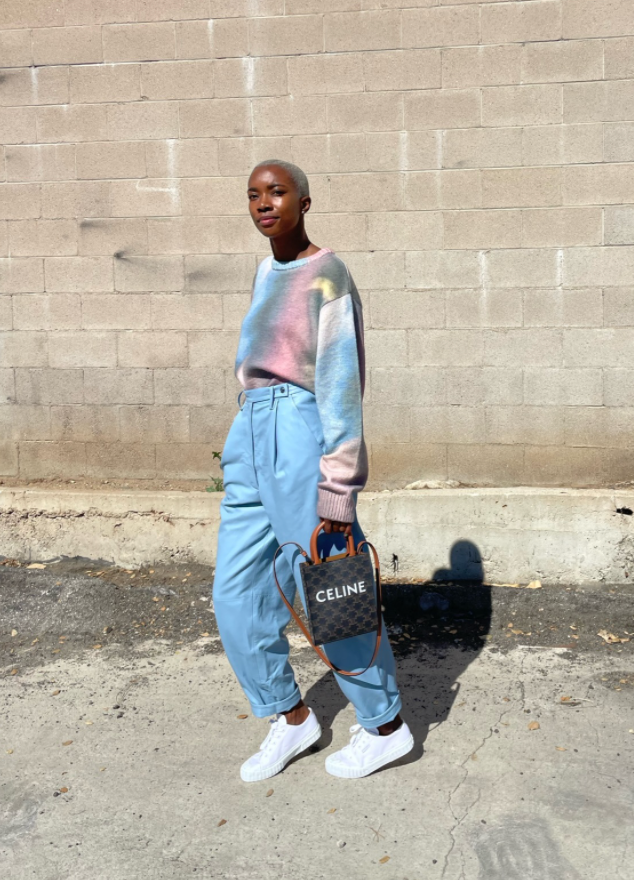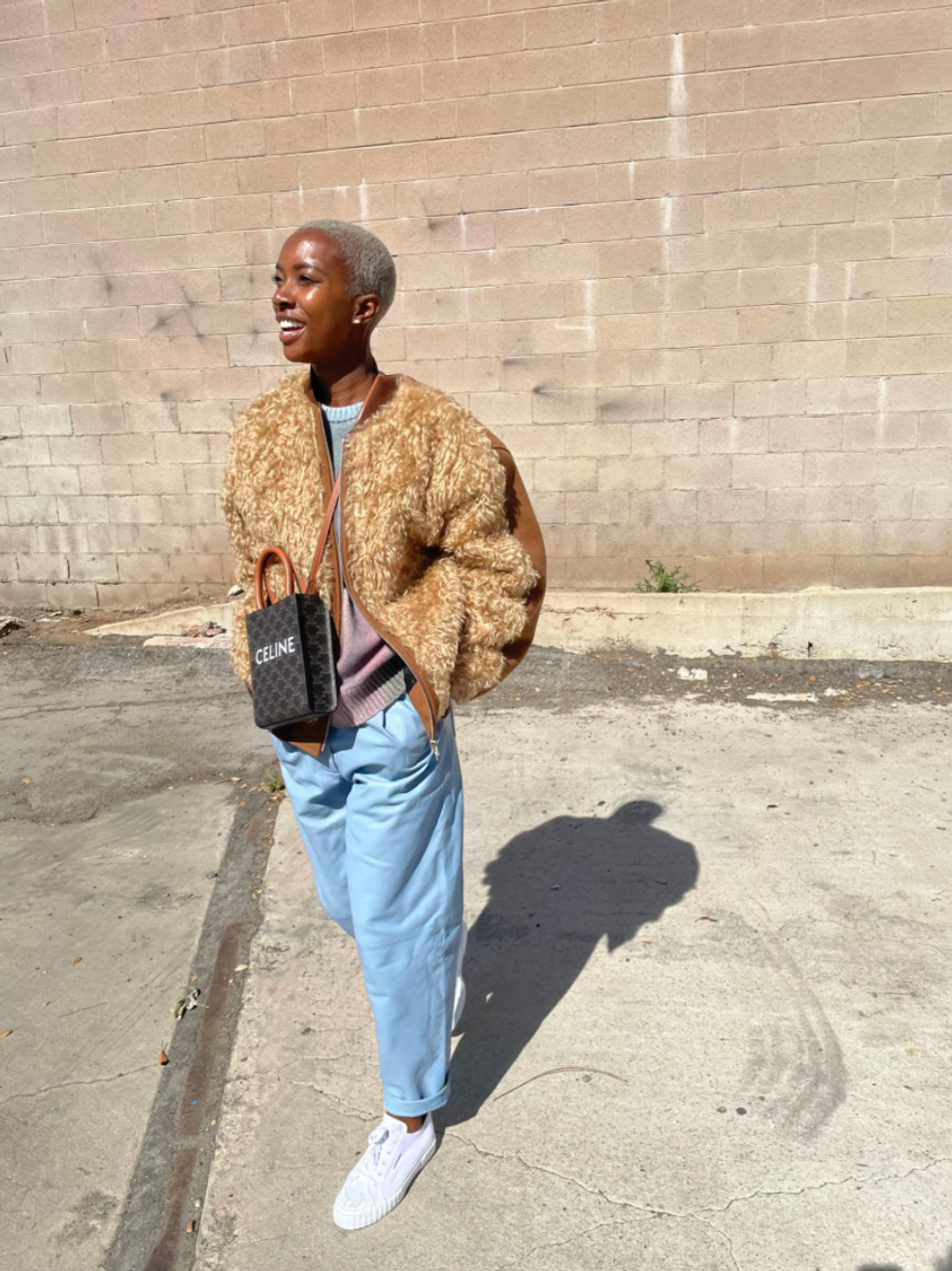 "I love this coat, it's from Dries. The sweater is from Stussy. Also, I was like 'oh, could it have been tie-dye Tuesday?' He had several goals.
Buy the look:
Look 7: Floral Friday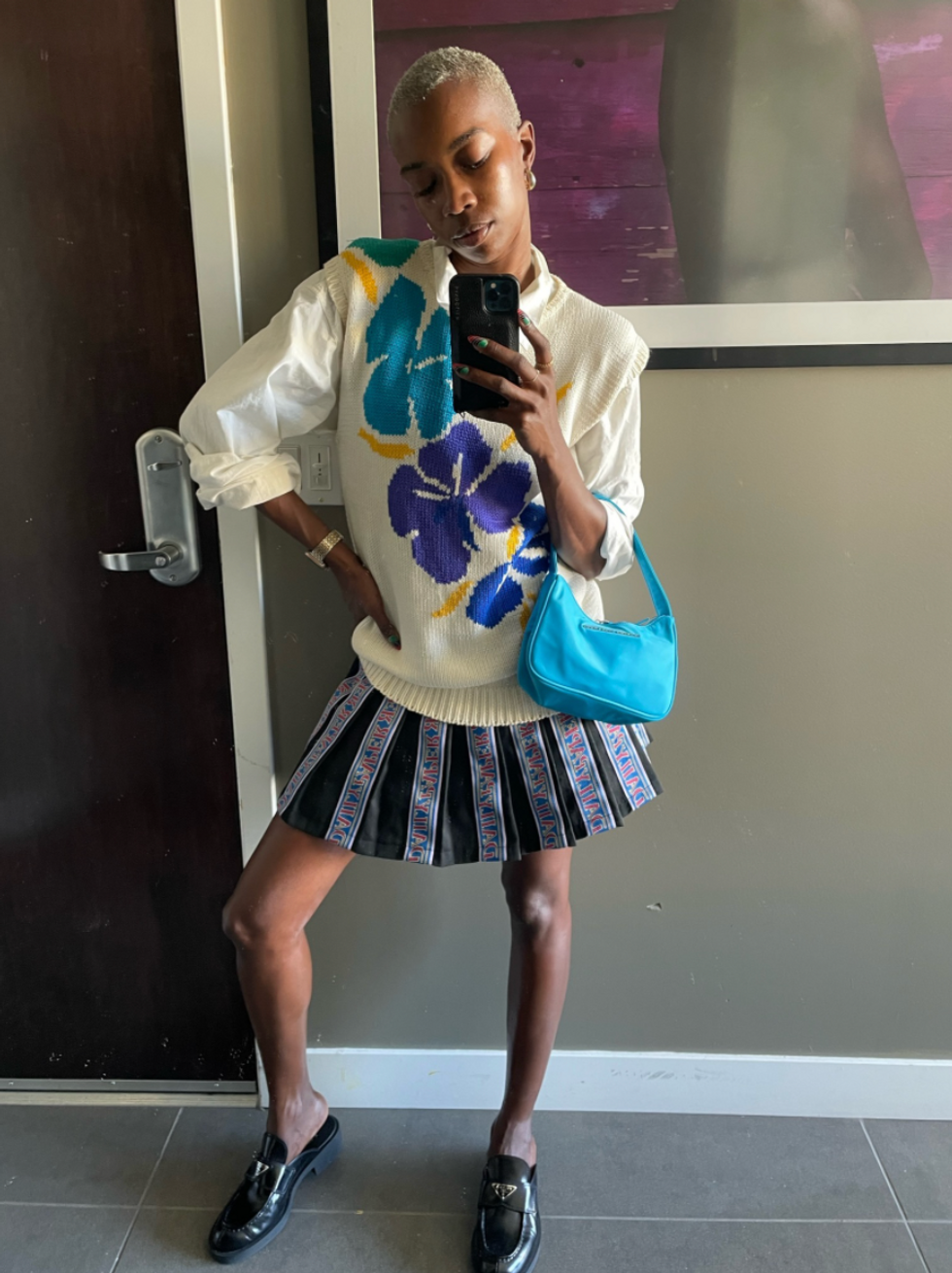 "It was one of my favorites because I had actually put away all my summer clothes. I have a bunch of flower t-shirts and things like that, but I had put them away. I got this floral sweater vest that i got from ROOM BEST, who is this vintage dealer. He's also a friend of mine. The skirt is from the Daily Paper, a skirt I never wear. I bought it years ago when it first came out. It was a day when I didn't have a fitting, so I knew I didn't have to squat or bend over, so I thought, "Oh, I can wear this skirt." I love the skirt. Then I added an oversized white oxford shirt and another mule. My Prada moccasin mules are my favorite. They give me height but are also practical. It was a floral Friday!
Buy the look: